Ki 67多株抗體 | 貨號ABP51674
| | |
| --- | --- |
| 代理廠牌: | |
| 原廠連結: | |
| 相關下載: | |
特點
Ki 67 polyclonal Antibody (Synthesized peptide AA range: 3170-3250)
產品描述: MKI67編碼與細胞增殖cellular proliferation有關並且可能是細胞增殖所必需的核蛋白(增殖Ki-67的標記)。已經描述了剪接的轉錄物變體。 一個相關的假基因pseudogene存在於X染色體上。
活細胞和死細胞雙染色套組  |  CCK-8細胞增殖和細胞毒性試劑盒  | LDH細胞毒性測定試劑盒 | 細胞衰老檢測試劑盒(β-半乳糖苷酶 | 細胞增殖EdU Image試劑盒 
Fig.1. Western Blot analysis of Hela (1), 293T (2), diluted at 1:1000.
Fig.2. Immunofluorescence analysis of human breast cancer tissue. 1, Ki-67 Polyclonal Antibody (red) was diluted at 1:200 (4°C, overnight). 2, Cy3 Labeled secondary antibody was diluted at 1:300 (room temperature, 50min). 3, Picture B: DAPI (blue) 10min. Picture A: Target. Picture B: DAPI. Picture C: merge of A+B.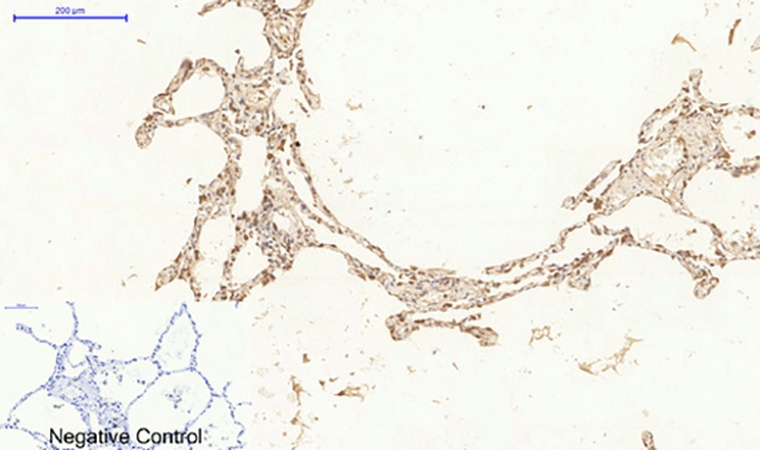 Fig.3. Immunohistochemical analysis of paraffin-embedded human lung tissue. 1, Ki-67 Polyclonal Antibody was diluted at 1:200 (4°C, overnight). 2, Sodium citrate pH 6.0 was used for antibody retrieval (>98°C, 20min). 3, secondary antibody was diluted at 1:200 (room temperature, 30min). Negative control was used by secondary antibody only.
Ki-67 Polyclonal Antibody
Synthesized peptide derived from the C-terminal region of human Ki-67 at AA range: 3170-3250
Rabbit
Human
ELISA, IF, IHC-P, WB
Optimal working dilutions should be determined experimentally by the investigator. Suggested starting dilutions are as follows: IHC-P (1:100-1:300), IF (1:200-1:1000), ELISA (1:20000). Not yet tested in other applications.
Polyclonal
Rabbit IgG
The antibody was affinity-purified from rabbit antiserum by affinity-chromatography using epitope-specific immunogen
Liquid solution
1 mg/ml
PBS containing 50% Glycerol, 0.5% BSA and 0.02% Sodium Azide.
Stable for one year at -20°C from date of shipment. For maximum recovery of product, centrifuge the original vial after thawing and prior to removing the cap. Aliquot to avoid repeated freezing and thawing.
Gel pack with blue ice.
The product listed herein is for research use only and is not intended for use in human or clinical diagnosis. Suggested applications of our products are not recommendations to use our products in violation of any patent or as a license. We cannot be responsible for patent infringements or other violations that may occur with the use of this product.
MKI67 encodes Antigen KI-67 that is associated with and may be necessary for cellular proliferation. Alternatively spliced transcript variants have been described. A related pseudogene exists on chromosome X.
MKI67; Antigen KI-67
Ki-67 Polyclonal Antibody detects endogenous levels of Ki-67 protein.