腫瘤壞死因子α(TNFa)活性重組蛋白 |貨號APA133Hu01
| | |
| --- | --- |
| 代理廠牌: | |
| 原廠連結: | |
| 相關下載: | |
特點
附Protein marker 或 positive control
Active Tumor Necrosis Factor Alpha腫瘤壞死因子α(TNFa)活性重組蛋白 |貨號APA133Hu01
產品介紹: Cloud clone提供原核及真核生物表現之重組蛋白系列商品;其中Active Tumor Necrosis Factor Alpha活性重組蛋白,為活性蛋白。純度> 95%,提供凍乾型式包裝。可應用於Cell culture; Activity Assays.等不同研究。 Organism Species Homo sapiens (Human)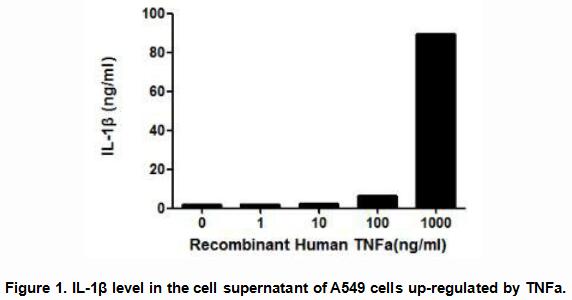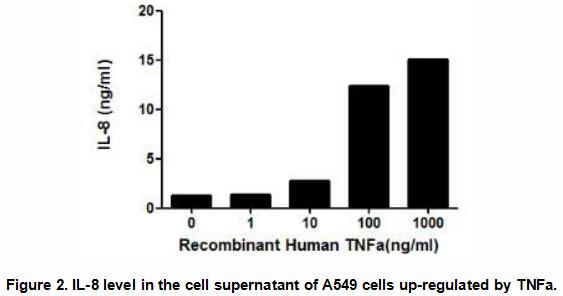 TNFa (Tumor necrosis factor), is mainly secreted by macrophages and can induce cell death of certain tumor cell lines. It has been reported that TNFa can inhibit the proliferation and induce apoptosis of A549 cells, besides, the concentration of IL-1β and IL-8 in cell supernatant will increase after stimulation. Therefore, a stimulation assay of TNFa was conducted using A549 cells. Briefly, A549 cells were incubated in DMEM with different concentrations of TNFa (1ng/mL, 10ng/mL, 100ng/mL, 1000ng/mL) for 8h, after which the concentration of IL-1β and IL-8 in the cell supernatant were detected by ELISA. IL-1β and IL-8 levels in the cell supernatant of A549 cells increased significantly after stimulated with IL-1β, the data was shown in Figure 1 and Figure 2 separately.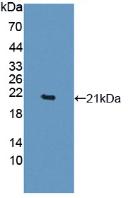 Figure. Western Blot; Sample: Recombinant TNFa, Human.
蛋白質保存型式
蛋白質溶於20mM Tris, 150mM NaCl, pH8.0, containing 1mM EDTA, 1mM DTT, 0.01% SKL, 5% Trehalose and Proclin300 為冷凍乾燥包裝。使用前Reconstitute in 20mM Tris, 150mM NaCl (PH8.0) to a concentration of 0.1-1.0 mg/mL.避免vortex. 短期保存Store at 2-8°C for one month.分裝-80°C長期12 個月。請避免反覆冷凍解凍。.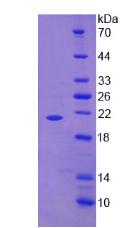 (GDNF)活性重組蛋白相關之抗體 | 蛋白質 產品