FNDC5活性重組蛋白 |貨號APN576Hu01
| | |
| --- | --- |
| 代理廠牌: | |
| 原廠連結: | |
| 相關下載: | |
特點
附Protein marker 或 positive control
Active Fibronectin Type III Domain Containing Protein 5 (FNDC5) 活性重組蛋白 |貨號APN576Hu01
產品介紹: Cloud clone提供原核及真核生物表現之重組蛋白系列商品;其中Active Fibronectin Type III Domain Containing Protein 5 (FNDC5) 活性重組蛋白,為活性蛋白。純度> 90%,提供凍乾型式包裝。可應用於Cell culture; Activity Assays.等不同研究。
蛋白質保存型式
蛋白質溶於20mM Tris, 150mM NaCl, pH8.0, containing 1mM EDTA, 1mM DTT, 0.01% SKL, 5% Trehalose and Proclin300.為冷凍乾燥包裝。使用前Reconstitute in 20mM Tris, 150mM NaCl (PH8.0) to a concentration of 0.1-1.0 mg/mL避免vortex. 短期保存Store at 2-8°C for one month.分裝-80°C長期12 個月。請避免反覆冷凍解凍。
FNDC5活性重組蛋白相關之抗體 | 蛋白質 產品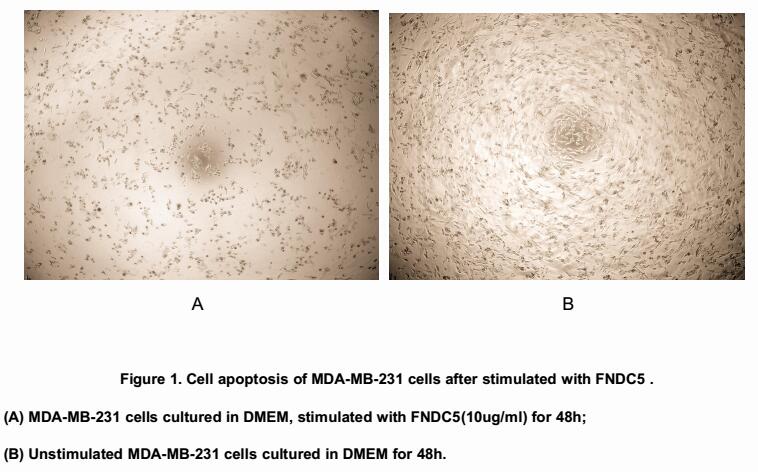 Fibronectin type III domain-containing protein 5, the precursor of irisin, is a protein that is encoded by the FNDC5 gene. It was reported that FNDC5 significantly decreased cell number, migration and viability through apoptosis in malignant MDA-MB-231 cells. Thus MDA-MB-231 cells were seeded overnight at a density of 5,000 cells/well, and treated with or without various concentrations of FNDC5 for 48h, then MDA-MB-231 cells were observed by inverted microscope and cell viability was measured by Cell Counting Kit-8 (CCK-8). Briefly, 10µL of CCK-8 solution was added to each well of the plate, then measure the absorbance at 450nm using a microplate reader after incubating the plate for 1-4 hours at 37oC.
Cell apoptosis of MDA-MB-231 cells after incubation with FNDC5 for 48h observed by inverted microscope was shown in Figure 1.
The dose-effect curve of FNDC5 was shown in Figure 2. It was obvious that FNDC5 significantly decreased cell viability of MDA-MB-231 cells. The ED50 for this effect is typically 7.23~21.92ug/ml.

SDS-PAGE Image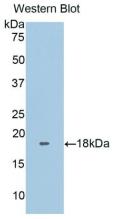 Figure. Western Blot; Sample: Recombinant FNDC5, Human
USAGE
Reconstitute in 20mM Tris, 150mM NaCl (pH8.0) to a concentration of 0.1-1.0 mg/mL. Do not vortex.
STORAGE
Avoid repeated freeze/thaw cycles. Store at 2-8°C for one month. Aliquot and store at -80°C for 12 months.STABILITY——
The thermal stability is described by the loss rate. The loss rate was determined by accelerated thermal degradation test, that is, incubate the protein at 37°C for 48h, and no obvious degradation and precipitation were observed. The loss rate is less than 5% within the expiration date under appropriate storage condition.