【H2O2過氧化氫檢測 】CheKine™ Hydrogen Peroxide (H2O2) Assay Kit 貨號KTB1041
【H2O2過氧化氫檢測 】CheKine™ Hydrogen Peroxide (H2O2) Assay Kit 貨號KTB1041
過氧化氫 (Hydrogen Peroxide , H2O2),一種活性氧代謝(reactive oxygen metabolic) 副產物,既是細胞內信號(intracellular signaling messenger)的信使,也是氧化應激(oxidative stress)的來源。過氧化氫(Hydrogen peroxide)通過多種機制在細胞中產生,例如中性粒細胞(neutrophils)和巨噬細胞(macrophages)產生 NOX 介導的 ROS(NOX-mediated ROS production),或由線粒體呼吸(mitochondrial respiration)過程中electron leak產生的超氧陰離子歧化酶(dismutase of superoxide anions)產生。通過 NF-κB 和其他因素起作用,氫過氧化物介導的通路與哮喘(asthma)、炎性關節炎(inflammatory arthritis)、動脈粥樣硬化(atherosclerosis)、糖尿病血管病變(diabetic vasculopathy)、骨質疏鬆症(osteoporosis)、神經退行性疾病(neurodegenerative diseases)、唐氏綜合症(Down's syndrome)和免疫系統疾病(immune system diseases)有關。
CheKine™ Hydrogen Peroxide (H2O2) Assay Kit | 貨號KTB1041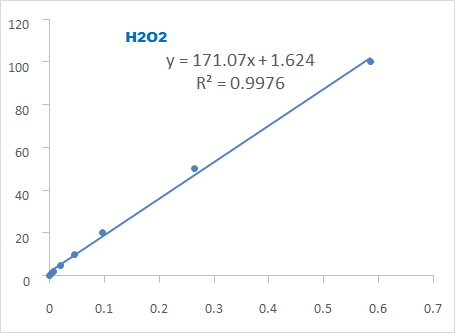 CheKine™ 過氧化氫檢測試劑盒(CheKine™ Hydrogen Peroxide Assay Kit, KTB1041)  提供了一種簡單易用的比色檢測方法,用於測量血清(serum)、血漿(plasma)、細胞培養上清液(cell culture supernatants)、組織(tissue)/細胞裂解液(cell lysates)和其他生物液體(other biological fluids)中的過氧化氫(hydrogen peroxide)。在該測定中,H2O2 將亞鐵氧化(H2O2 oxidize ferrous)為三價鐵離子(ferric ion),二甲苯酚橙(xylenol orange)以高選擇性結合三價鐵離子(ferric ion),形成有色(紫色)產物,可通過比色法在 OD 580 nm 處進行測量。樣品中存在的過氧化氫與獲得的信號成正比。
ELISA儀器設備請按此 (標配405、450、492、630 nm濾片/最高可擴充至7濾片)(KTB1041  λ= 580 nm)
Product name
CheKine™ Hydrogen Peroxide (H2O2) Assay Kit
Applications notes
CheKine™ Hydrogen Peroxide Assay Kit provides a simple and easy colorimetric assay for measuring hydrogen peroxide in serum, plasma, cell culture supernatants, tissue/cell lysates and other biological fluids. In the assay, H2O2 oxidize ferrous to ferric ion, and xylenol orange binds ferric ion with high selectivity to form a colored (purple) product that can be measured by colorimetric method at OD 580 nm. The Hydrogen Peroxide present in the sample is proportional to the signal obtained.
Kit components
• Reaction Buffer
• H2O2 Standard (1M)
• Assay Buffer (10X)
Features & Benefits
• Determination of Hydrogen Peroxide in serum, plasma, cell/tissue samples, urine and other biological fluids.
• Detect biological samples at a level of 1-20 µM.
• Simple procedures, fase and convenient, and more stable.
Usage notes
• It is recommended to perform several dilutions of your sample to ensure the readings are within the standard value range.
• Fresh samples are necessary for good results. If not assayed immediately, samples can be stored at -80°C for one month.
Storage instructions
Storage at -20°C and Keep from light immediately upon receipt. Kit has a storage time of 12 months from receipt. Refer to list of materials supplied for storage conditions of individual components.
Shipping
Gel pack with blue ice.
活細胞和死細胞雙染色套組  |  CCK-8細胞增殖和細胞毒性試劑盒  | LDH細胞毒性測定試劑盒 | 細胞衰老檢測試劑盒(β-半乳糖苷酶 | 細胞增殖EdU Image試劑盒 
| | |
| --- | --- |
| Product name | PurKine™ His-Tag Cu-IDA Resin |
| Applications notes | PurKine™ His-Tag Cu-IDA Resin effectively purifies high levels of overexpressed His-tagged fusion proteins in gravity column procedures at a variety of scales. The Resin consists of 90μm beads of highly cross-linked 4% agarose, to which Iminodiacetic Acid (IDA) has been coupled. The chelating group has then been charged with copper ions (Cu2+). Tests confirm that performance equals or exceeds popular Cu-IDA resins from other suppliers, and no decrease in performance occurs after at least five repeated uses. |
| Alternative | Ni-NTA; His resin; Ni-NTA resin; His tag resin |
Product Properties
Formulation
Liquid solution
Features & Benefits
• High capacity—More than 50 mg of 6xHis-tagged protein per milliliter of resin.
• Versatile—For purification under native or denaturing conditions.
• Cost-effective—No performance decrease after at least five repeated uses of the same batch of resin.
• Flexible—available in multiple formats including bulk resin, spin columns and complete kits.
Storage buffer
Liquid in PBS buffer containing 20% ethanol.
Storage instructions
Stable for one year at 2-8°C from date of shipment. Do not freeze.
Shipping
Blue ice